Dutro 4-Wheel Drum Truck 3004
Manufacturer: Dutro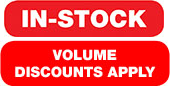 F.O.B. Utah or Oregon Warehouse
4-wheel design puts the load-bearing responsibility on the truck, not on you.
Capacity: 1,000 lbs.
Weight: 76.6 lbs.
Mold-On Rubber Wheels: 10"x2-1/2"x1"and 6"x2"x5/8".
Overall Dimensions: 42-1/4"Hx24-7/8"Wx53-1/4"L.

Mold-On Rubber Wheels
Conditions: Concrete
Weights: Low, Standard, High and Extreme.
Impact: Low, Medium and High.
If you need a large quantity of this product, call us at 1-800-338-1382 for additional bulk discounts!