Dutro All Terrain Appliance Hand Truck 1900
Manufacturer: Dutro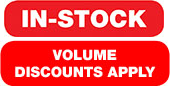 F.O.B. Utah or Oregon Warehouse

Built with big wheels to move over tough, uneven terrain – indoors or out.
14' strap with buckle
Capacity: 700 lbs.
Weight: 58.6 lbs.
Toe Plate Dimensions: 4-1/2" clear x 24" wide x 1/4" thick
Overall Dimensions: 48-1/8"Hx28-3/8"Wx40-1/2"L
12" x 3-1/2" x 3/4" pneumatic wheels or 12" x 3" x 3/4" polyurethane foam flat-free wheels
If you need a large quantity of this product, call us at 1-800-338-1382 for additional bulk discounts!