Dutro Aluminum Double-Loop Open-Plate 10-Inch Wheel Hand Truck A510R
Manufacturer: Dutro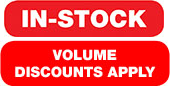 F.O.B. Utah or Oregon Warehouse
Designed to carry round objects such as cans, pails or buckets with the R-style toe plate. Provides control and break-back comfort with double loop handles for easy horizontal gripping.
Good for going up and down stairs.
Aluminum construction.
Capacity: 500 lbs.
Weight: 27 lbs.
10" wheels.
Toe Plate Dimensions: 7-7/8" clear x 14" wide x 1/4" thick.
Overall Dimensions: 55"H x 18-1/2"W.
Choose the right wheel for your application:

Solid Rubber
Conditions: Concrete and Carpet.
Weights: Low and Standard.
Impact: Low.
Balloon
Conditions: Concrete, Carpet and Gravel.
Weights: Low, Standard and High.
Impact: Low, Medium and High.

Pneumatic
Conditions: Concrete, Carpet, Gravel and Grass.
Weights: Low.
Impact: Low and Medium.
If you need a large quantity of this product, call us at 1-800-338-1382 for additional bulk discounts!