Dutro Light Duty Steel Hand Truck 137
Manufacturer: Dutro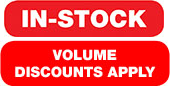 F.O.B. Utah or Oregon Warehouse
Durable yet affordable hand truck built for a lifetime of use. Electro-statically powder coated. Axle welded to frame for extra stability.
Capacity: 400 lbs.
Weight: 31.8 lbs.
8"x2-1/2"x5/8" solid rubber wheels
Toe Plate: 6-3/4"x14" wide x 3/16" thick
Overall Dimensions: 44-3/4"Hx18-3/4"Wx14-3/4"L
If you need a large quantity of this product, call us at 1-800-338-1382 for additional bulk discounts!