Dutro Swing-Out Double Loop Handle Appliance Hand Truck 1420SO
Manufacturer: Dutro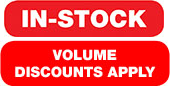 F.O.B. Utah or Oregon Warehouse

A must-have for professional movers! All the great features of 1420, plus a swing out option to speed up loading and unloading of hard-to-move items and ease the amount of stress on your back and legs.

The single belt retractable ratchet lets you walk the safety belt around the appliance. When you're done, just unhook the belt and the strap rewinds into the truck.
Double Loop Handles for extra stability
Capacity: 800 lbs.
Weight: 82.2 lbs.
8-1/2"x2-1/2"x5/8" solid rubber wheels
Swing-Out Dimensions: 50"x42-7/8"
Toe Plate Dimensions: 4-1/2" clear x 23-1/2" wide x 10-gauge
Overall Dimensions: 58-5/8"H x 23-1/2"W x 13-1/2"L
Solid Rubber Wheels
Conditions: Concrete and Carpet
Weights: Low and Standard
Impact: Low
If you need a large quantity of this product, call us at 1-800-338-1382 for additional bulk discounts!