Economical Aluminum Appliance and Vending Trucks
Manufacturer: Wesco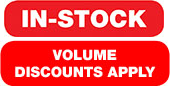 Normally ships within 1-5 weeks
Aluminum Frame Construction
FOB East Coast Warehouse.

Features:
Wesco USA Made ratchets
Overall Dimensions: 24" x W x 12" D x 61" H
550 lbs. capacity
Lightweight aluminum frame with auto rewind ratchet
Model AAP-612 has double ratchet design for greater cargo security
Model AVT-61 has four wheel kick-out design to support heavy lads and help reduce the strain of balancing the cargo over long distances
6" x 2" moldon rubber wheel, poly hub
Noseplate: 24"W x 5"D
If you need a large quantity of this product, call us at 1-800-338-1382 for additional bulk discounts!