Professional Series Cylinder Trucks
Manufacturer: Wesco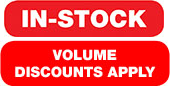 FOB: East Coast Warehouse

Normally ships within 1-5 days
Standard Color Powder coated gray finish

Features:
Safety chain secures load.
Easy conversion between all 3 modes using spring-loaded position lock mechanism.
8" moldon rubber wheels, 3" swivel casters.
Holds cylinders up to 9-1/4" in. diameter.
Noseplate 9"W x 7-1/4"D - single cylinder.
Noseplate 16-7/8"W x 7-1/4"D - double cylinder.
Superior quality - excellent for lab use.
Rear carriage rail may be used as foot rest to help break over load in 4-wheel mode.
4-wheel mode provides maximum support and eliminates need for operator to balance heavy load increasing safety.
2-wheel mode: rear swivel caster carriage retracts when not in use.
Storage mode: truck can be put in full vertical position with rear caster carriage deployed for increased stability.
Storage Overall Dimensions:
CC-1: 19" W x 26" D x 41.75" H
CC-2: 29" W x 26" D x 42.25" H
If you need a large quantity of this product, call us at 1-800-338-1382 for additional bulk discounts!