Series 126 Hand Truck with a Single Pin Handle
Manufacturer: Wesco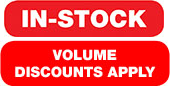 FOB: East Coast Warehouse
Normally ships within 5 days
Standard Color: Orange

Made In The USA
Features:
The curved back single pin handle design allows one hand control.
Ideal for boxes, kegs and packages.
Three horizontal cross straps and full height vertical center strap offer support for small packages.
Overall Dimensions: 22.5" W x 46" H x 16.5" D (w/ 8" wheel),
22.5" W x 46" H x 18.5" D (w/ 10" wheel)
If you need a large quantity of this product, call us at 1-800-338-1382 for additional bulk discounts!